Serving Ventura County | Santa Barbara County
13 Dawson Dr
Camarillo, CA 93012
(805) 574-8288
Ventura Pest Control Services
Ventura, CA sits on the California coast, northwest of Los Angeles and is known for its gorgeous beaches and many historical landmarks. The lovely moderate year-round temperatures are great for humans, but pests like it too. There are a number of household pests that can find their way into Ventura homes and businesses. Fortunately, O'Connor pest control services can help you keep pests away from your property.
---
Residential Pest Control
O'Connor Pest Control will put an iron curtain of defense around the base of your home For homeowners in Ventura, CA, pest control is an important part of keeping your home and loved ones safe & healthy. Our residential pest control services address a number of common household pest problems like ants, roaches, mice, and more. We offer same day service to quickly address your pest issue. Our technicians are knowledgeable, friendly, and professional. They will assess your home and work with you to create a pest control plan that will keep your home pest free.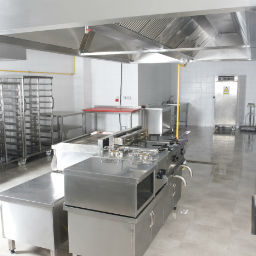 Commercial Pest Control
O'Connor PePests in your business can mean lost customers, bad reviews, and even fines and forced closures. Stay on top of any pest problems with our commercial pest control services. We will work with you to develop a plan that will keep your business free from pests, so your customers and employees have a safe, pest free environment. Treatment is discrete and non-intrusive so you go about your day business as usual.
---
Pest Control Services
Ant Control
Ants are particularly bothersome when they are trailing across your kitchen counter, but some species can build colonies in your walls and that can become a major problem. Our ant control services remove the ants from your house, and take care of the nests and areas of your home used for entry.
Bee & Wasp Control
If you have bees or wasps on your property or in your home, don't try to get rid of them yourself. That is a job best left to a professional or you could end up with painful stings. Call us to help remove bees and wasp nests from your property.
Bed Bug Control
Bed bugs tend to hide and only come out at night. However, they do leave some telltale signs. If you have large, flat, red, itchy welts on your skin, or you see rust-colored spots on your sheets, it could mean you have bed bugs. Our experienced technicians can eradicate even the most difficult to remove bed bug infestations, restoring peace to your bedroom.
Cockroach Control
Cockroaches are often associated with poor sanitation and uncleanliness, but they can actually find their way into any home, no matter how clean it is. Roaches reproduce quickly so a population can get out of hand quickly, and be very difficult to get rid of on your own.
Flea & Tick Control
Fleas and ticks can take over a home and yard quickly. They are linked to several diseases and flea bites can cause itching and redness. Protect your family and pets with professional treatment to get rid of fleas and ticks fast.
Gopher & Ground Squirrel Control
Gophers and ground squirrels can be very destructive to a yard. They dig holes and destroy lawns, plants or crops. We offer special services to get gophers, moles, and ground squirrels out of your yard and away from your home.
Rodent Control
If you've seen one mouse or rat in your home, chances are there are more. You need to act fast as they reproduce quickly, so it doesn't take much for a couple of mice to become an infestation. If you suspect there are rodents in your home, ask about our rodent control services.
Squirrel Control
Squirrels can cause a lot of damage to your yard and home. They can kill trees and plants, chew through electrical wires, resulting in a fire hazard, and tear up your attic. We will help you get rid of squirrels so you can keep your yard and home safe and looking beautiful.
Termite Services
A termite colony can stretch across several yards, so if your neighbor has a problem with termites, chances are good that you do too. The problem is, usually you don't find them until they have already done thousands of dollars of damage to your home. Our termite services will get rid of any termites in your home and monitor your property to make sure they don't come back.
Green Pro Services
Green pest control is better for the environment and safer for humans and pets. If you have a sensitivity or you just want to have a more earth friendly pest control experience, ask about our Green Pro Services.
Call For a Free Inspection
When you need Ventura, CA pest control services, look no farther than O'Connor Pest Control. Our fast, professional service will have you pest free in no time. Household pests may be common, but they don't have to be a part of your household. For over 60 years we have been serving our community with our expertise in pest control. Call today and get a free inspection!
Ventura, CA Pest Control Pest Control in Ventura CA
Serving Ventura County | Santa Barbara County